@@@@@@@@@ Jon VK4CY @@@@@@@@@


Currently operational status with the following:-

MF/HF - Yaesu FT857 - 160m/6m 100watt transceiver.

VHF/UHF - Yaesu FT857 2m/70cms 50watt/20watt transceiver.

Antennae:-

MF/HF/6m: Buddipole system - VHF/UHF: Discone 50MHZ/440MHz

VoIP - Echolink; Skype:

Equipment:-

FT60 2m/70cms A/OK.
FT857 160m/70cms A/OK.


VK4CY DXCC STATUS [Confirmed: OCT.1961 to present date]

BPSK31/022; CW/257; Flags/76 [77]; SSB/309;

Combined CW/Digital/SSB Countries/319;


@@ CALLSIGNS USED BETWEEN 1961-present date @@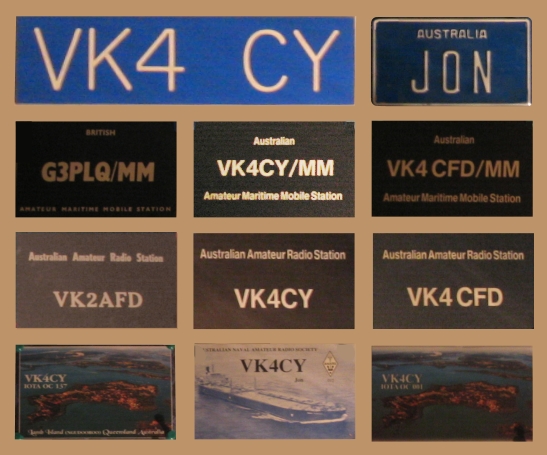 @@@@@@@@@ AUSTRALIAN NETS & DATA @@@@@@@@@


AUSTRALIA, NEW ZEALAND, AFRICA NET [ANZA NET]


HISTORY OF THE ANZA DX NET - compiled by VK4SWE & Ki6KFB

The Australia, New Zealand and Africa Net is one of the world's longest-running DX Nets. It has often been called the 'Friendly Net' and traces its origins back to 1970, when it was established by Percy Anderson, VK3PA. VK4CPA,
Percy had been involved in radio, both amateur and commercial, throughout his life, and in 1970 he joined the Pacific DX Net, becoming a net controller in 1972, a position he held for the next ten years. Deteriorating propagation conditions and increasingly powerful equipment at some stations, meant that it was becoming more difficult for the simple station without amps or beams, to break through the pileups for that rare DX station. DX 'Nets' are one way of getting around those difficulties.
"I know some amateurs object to nets," said Percy, "but one has to remember this: nets do serve a useful purpose. Many stations occupy only one frequency, and the nets allow those using simple or low-power equipment and home-brew antennas to work the DX station they might not be able to work otherwise."
The ANZA Net was Percy's idea, and the first historic broadcast took place on May 20th 1970 on 21.300 MHz (MC). The frequencies used have changed over the years according to propagation conditions. The original 15m Net moved to 21.205 MHz (MC), and a secondary frequency was set up on the 20m band, moving around from 14.135 MHz (MC), to 14.164 MHz (MC), and in 1997, with the decline in sunspot activity, the primary frequency was established on 14.183 MHz (MC). For many years, Percy ran the Net single-handed, later being joined by a long list of assistant net controllers and relay stations throughout the world.
As well as the expected checkins from Australia, New Zealand and Africa, Percy welcomed stations from the USA, South America, Asia, Europe and the Pacific Islands. When conditions were good, checkins came from everywhere including 9J2BO, T30JH, VP8CQJ, XE1CI and OD5MM.
Long-serving net controller Morris ZL1ANF recalls how he managed to accumulate 250 DXCC countries with a dipole and 100 watts with Percy's help. Others recall the variety of accents and callsigns checking into the 'Friendly Net' to exchange signal reports, weather reports, QSL information or a brief chat.
One of the many memorable DX visitors to the ANZA Net was Chuck Brady 3Y0C, who made a solo trip to Bouvet Island in December 2000 and made several thousand QSOs. Chuck checked in to the ANZA Net not just once, but several times where Net Controller Bill VK4UA, with his excellent antenna setup, consistently managed to pull his signal out of the mire and assist many operators in logging this rare DX station. Sadly Bill VK4UA passed away 31MAY.2012. To show their appreciation, the ANZA net and Alan VK2CA presented a plaque to Chuck for his efforts.
The ANZA net also welcomed operators with physical disability, one of whom was a quadriplegic, operating his equipment using a rod that was attached by a suction cup to the top of his head! "It makes one think!" was Percy's comment!
The ANZA Net not only forged friendships between regulars over the airwaves, but some members have visited the DX friends they made through the net.
ANZA Luncheon 1997 [L2R] - VK4UA, VK4BS, unknown, VE7YL, VK4CPA & VK4CY. Percy and Elizabeth had been friends for many years, this I believe was the last time a ANZA Luncheon was held. For example, Tex VK1TX was net controller for 4-5 years, and worked with Percy, making many good contacts and travelling to Moscow to visit Val UA3DEA, who often assisted Net Control.
When Percy passed away after a brief illness on July 31,1998, Morris ZL1ANF, Tex VK1TX and a group of volunteers got together and drew up a roster of net controllers to keep the ANZA Net going. The net now operates as a team of volunteers. Each day there is a different Net Controller, assisted by relay stations as necessitated by conditions on the day. Net Control calls for checkins, and a list is taken. Each station on the list is then given the opportunity to call a DX station. When the list is run, further checkins are called, and stations usually get a second turn to call DX. If a particularly interesting DX station comes on frequency, a dedicated list is taken and run for that station while the propagation is there. The system works well, and teamwork ensures that if one NC has a problem with his station or can not make the net, then someone else will step in to help out. In this way, the ANZA Net has thrived over the years and continues to provide a unique environment for amateurs to meet and share some great DX.

The ANZA DX net is very much a Team Effort, and a very special ' Thanks ' is due to the many Net Control Stations that have helped to keep it going over the years.
These include the following:


VK1MJ Mike
VK1TX Tex

VK2CA Alan

VK3HGN Alan
VK3PA/VK4CPA Percy SK
VK3WM Lindsay

VK4AU John SK
VK4BS Jim SK
VK4CC Col
VK4CY Jon
VK4CPA/VK3PA Percy SK
VK4DBJ John
VK4LJ John
VK4NH Ray
VK4UA Bill SK 31MAY.2012

VK5? Laurie SK
VK5FV Brian SK

VK6JJ John
VK6WR Graeme

VK7XX John

ZL1AMN Dave
ZL1ANF Morris
ZL1RD Rob
ZL2KOT Keith
ZL2MIC Myrle
ZL4BO Roy SK

K7INA Russ
KH0AC Len
KH6KW Jamie
Ki6KFB Ken


If you would like more information on the ANZA net - please visit their site via the 'link' in GREEN - ANZA DX Net,

Comments by VK4CY pp ANZA Net.

CARRINGTON FLARE of 1859

Considerable debate is circulating around the current Solar Cycle # 24 and the strong possibility of a 'super flare' within the 2011-2013 period. You may like to check out the attached NASA site relating to an event which was observed in England by Richard Carrington [ A highly regarded British radio astronomer] on September 1st. 1859.
The effects that occured then and strong possibility of re-occuring in our time are of considerable interest. It is this effect that many "Ex Marine Radio Officers/Operators" prior to the introduction of the GMDSS [Global Maritime Distress Safety System], and the demise of specialised shipbourne staff who said the retention of HF radio staff should be maintained - myself included.
Check the NASA site - in green - and then ponder how our current system with all its 'eggs in one basket' is shortly to fail miserably. This is based on FACT - and marvel at the designer of our universe.! - Carrington Flare. If you check the "History" sub-section on this website - note my comments under the heading Portisheadradio GKA.

Out of interest: The attached link featured on the SolarHam site recently which shows the effects of the Geo-Magnetic Storming with Earth's magnetic field - Alberta Aurora - marvellous.

[Info. via NASA plus SolarHam-Vimeo. Comments by VK4CY]



@@@@@@@@@ FLAG COUNTER @@@@@@@@@



The Flag Counter , as suggested by VK4FJAR, has produced some interesting results.


The 'flag register' reset itself following the upgrade(s) hence the lack of a 'several flags' - [those not highlighted] ; nice to have all on board - thanks for visiting.



Latest flag [#76] was ALGERIA on 23OCTOBER.2013

Since 04FEB.2010 plus an 'upgrade' on 26FEB.2010 and a complete system replacement in late OCTOBER.2011, have had people from:

Algeria, Argentina, Armenia, Australia, Austria, Belgium, Belarus, Belize, Bosnia & Herzegovina, Brazil, Bulgaria, Cambodia, Canada, China, Columbia, Cook Islands, Croatia, Czech Republic, Denmark, Dominica, Estonia, Finland, France, Germany, Georgia, Greece, Guatemala, Holland, HongKong, Hungary, Iceland, India, Indonesia, Iran, Ireland, Isreal, Italy, Japan, Latvia, Lithuania, Malaysia, Malta, Mexico, Moldava, Montenegro, New Zealand, Netherlands Antilles, Norway, Pakistan, Panama, Philippines, Poland, Portugal, Qatar, Republic of South Africa, Republic of South Korea, Romania, Russian Federation, Saudi Arabia, Senegal, Serbia, Seychelles, Singapore, Slovakia, Slovenia, Spain, Sweden, Switzerland, Taiwan, Thailand, Trinidad & Tobago, Turkey, UAE, UK, Ukraine, USA, Venezuela. - have had a look/see.


@@@@@@@@@ ACKNOWLEDGEMENTS @@@@@@@@@



A big thank you to the following for additional data and encouragement plus always good to hear from old friends:



@@@@@@@@@ SOURCES @@@@@@@@@


425 DX News' ACMA; AML; Andrews Communications; ANZA; AVG; BBC; Buddipole Inc.; CBA; Chaos Software; CW Operators' QRP Club Inc.; DRC; DX Summit; G4ILO's Shack; GKA; Hamcall[Buckmaster]; In-Store-Radio; IPS Melbourne; Jaycar; Kaspersky; NCH; ODXG; Palm-Radio; Practical Wireless [UK]; QRZ.com/support; RAOTC; RBWH Team; Reuters; RNARS; Schnap Electric; Skype; VE3EN's SolarHam.com; Virgin Mobile; VK QRP Club; Walk on Wheels; WIA news; WIA [VK4 QSL Bx]; YouTube'; plus YOUR E-mails.



Enjoy this website and please be aware it is constantly being updated.


73s 'n Happydaze de Jon VK4CY - Updated 18 MARCH.2014